Department of General Surgery
Nemcare Hospitals, a 300 bedded Hospitals with super specialities situated at heart of Guwahati city at foothill of Narakashur Hill. The New Block is fully centrally airconditioned. All branches of specialities and super specialities are manned by qualified consultants of repute.
We are a dynamic and diverse team of faculty and residents who are actively engaged in studying and defining the cost of surgical care and its effectiveness, understanding the epidemiology of the burden of surgical disease, and actively advancing surgical care. The Department of General Surgery is one of the busiest department in Nemcare. All shorts of General Surgery and all shorts of advanced Laparoscopic surgery is done routinely. In whole north east India, Nemcare is doing highest number of Laparoscopic surgery .
Over the years, this institution has built up a reputation of Managing all complicated cases of gastroenterology from whole north east India
Nemcare Hospitals Surgery Team
List of procedures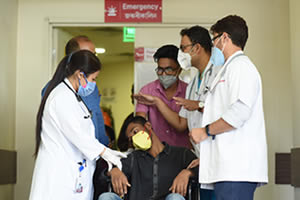 Facilities in the Department of General Surgery
Department of Surgery also provides both in-patient and out-patient service for the general public in the following sub-specialties:
All type of General Surgery :: Routine & Emergency
Cardiovascular Surgery
Neurosurgery
Gastrointestinal and Metabolic Surgery
Hepato-biliary and Pancreatic Surgery
Colorectal Surgery
Pediatric Surgery
Plastic, Reconstructive and Aesthetic Surgery
Burn Unit with ICU & OT