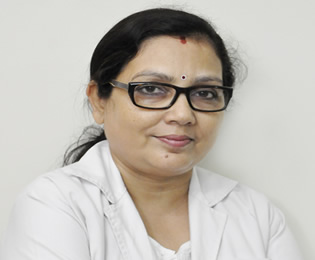 Dr. Monalisa Goswami Sarma
MBBS
MD (Paed)
DNB (Neurology)
Diploma in Sports Medicine (International Olympic Committee)
Phone :

Email :

Address Info :

Nemcare Superspeciality Hospital, GMCH Road, Bhangagarh, Guwahati, Assam, India

Dr. Monalisa Goswami Sarma : Chief Consultant Neurologist
Visiting Time : Monday-Friday
OPD Timing : 10-00 AM to 02:00 PM
Dr. Monalisa did her MD in Paediatrics from Gauhati Medical College and then DNB in Neurology, being the first in the region specialized in Child Neurology. She recently completed the prestigious, two year intensive Diploma in Sports Medicine, offered by the International Olympic Committee (IOC). This makes her the first neurologist in the country with a Diploma in Sports Medicine.
Her areas of special interest are Epilepsy, Paediatric Neurolgy, Headache, Sports Medicine, Health & wellbeing.
She has several publications in National & lnternational journals and has been a resource person in innumerable medical, paediatric neurology and neurological conferences, symposiums and CMEs. Her most notable research work & publication involved working with researchers from the Department of Design, lndian lnstitute of Technology, Guwahati (IIT Guwahati) involving in vivo studies of silk based gold nano-composite conduits for functional peripheral nerve regeneration. She is also one of the thinktank behind several annual events like ABHIGYAN (a yearly CME programme of Nemcare Hospital).
She is actively involved with several social, non-profit organizations like Deepsikha Foundation and devotes time to raising awareness regarding Cancer, Epilepsy, Dementia etc.